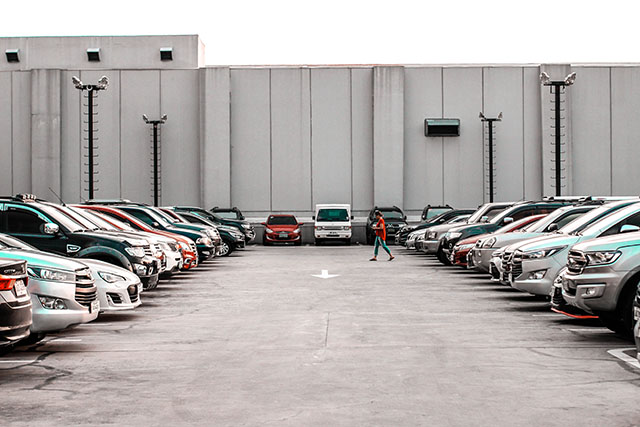 Civic Center Parking Structure – Garage
Parking for Civic Center Parking Structure 
With PCI and ParkChirp, you can learn all you may need to know about parking for Civic Center Parking Structure. Continue reading below for additional information on this parking garage.
The Civic Center Parking Structure is [City of Alameda's] best deal in town for parking near movies, Park Street area businesses, and civic institutions. Its rates are half the cost of nearby parking meters and its paid hours end an hour earlier. With 341 spaces, parking is almost always available at the structure, and a sign out front announces the number of spaces available at that moment.
Patrons parking by the hour must pre-pay for parking for up to four hours between 9 a.m. and 5 p.m., Monday through Saturday, excluding holidays. The rate is $0.75 per hour. After you park, note your parking space number. Then proceed to the pay stations near the ground floor elevator bank, where you will input that space number to pre-pay for your expected stay. The pay stations accept cash or credit cards.
The Alameda Theater validates parking for a future trip to the parking structure. When you attend a movie, you'll receive a paper coupon from the movie theater with a printed code number which may be entered at the pay station in the structure during a future visit. The coupon provides free parking for up to three hours. In the future, other Park Street merchants may also offer validation coupons.
We hope to see you soon!
Location
Facility Address: 1416 Oak Street, Alameda, CA, USA
The Civic Center Parking Structure is open 24 hours a day, seven days a week. It is conveniently located one block from Park Street and next to the historic Alameda Theatre at 1416 Oak Street, Alameda CA 94501 between Central and Santa Clara Avenue.
Posted Rates
Hourly Rates

0-1 Hour (Mon - Sat 9am - 5pm) = $0.75
Each additional hour or fraction thereof (Mon - Sat 9am - 5pm) = $0.75
Daily Maximum (Mon - Sat 9am - 5pm) = $6.00

Monthly Rates

Five Days (Mon-Fri) - Unreserved - 24/7 = $35
Six Days (Mon-Sat) - Unreserved - 24/7 = $45
Amenities
Covered Parking
EV Charging Available
Handicap Accessible
Oversize Vehicle Friendly
Self Park
Hours of Operation
Monday: 24/7
Tuesday: 24/7
Wednesday: 24/7
Thursday: 24/7
Friday: 24/7
Saturday: 24/7
Sunday: 24/7